Getting More Customers Without More Marketing
How many almost customers do you have? People who would like to do business with you, but don't. Some businesses do a great job creating interest and desire…without increasing sales. The problem is that interest and desire are just the first step. The second step, making it easy for customers to decide and buy, is the stumbling point. The solution is to have a customer influence strategy woven into your customer experience.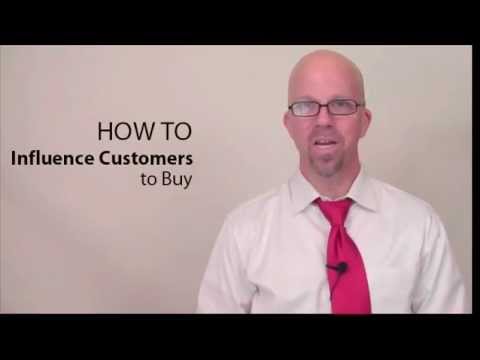 Customer Influence Strategy
You are probably tired of spending money on advertising, social media, and websites trying to get more business, and really not seeing a proper return on your investment. How do you get more business, without having to spend more money? You do it with a Customer Influence Strategy, that gets more of your current prospective customers to make a decision to buy.
It doesn't really matter if you have the best quality products, the greatest customer service, super low prices. Those businesses don't always get the sale. Why is that? Isn't that what people want? Actually, it's not what they want, it's what they expect. What they want is something more. But it's something they cannot articulate because it's part of their subconscious.
That's why the customer experience is so important and that's why you should consider enrolling in this webinar. If you can create an environment that makes it easy for customers to buy, and leads them to make a purchase decision on the spot, you need How to Influence Customers To Buy.
This webinar: How to Influence Your Customers to Buy is really the magic spot for you to harness customer psychology for your customers experience design. It will teach you how to create a buying environment that makes it easy for customers to purchase from you. This is not a sales tactics webinar, and this webinar is not about tricking the customer. This webinar will teach you how to create a buying environment and a customer influence strategy that will help customers do what they really want to do: buy something from you.
ENROLL HERE: Customer Influence Webinar
WEBINAR SYLLABUS
How to Influence Your Customers to Buy
Webinar Prep materials: Customer Experience Manifesto, Brand Experience Frame, Customer Experience Map
Date: Wednesday, November 30th
Time: 1 PM Eastern
Length: 75 minutes
Presenter: Jay Ehret
Note: You are not required to attend the webinar live. All enrollees receive the recorded video of the webinar and the accompanying PDF worksheets. They are yours to download and keep forever.
I. How Customers Make Purchase Decisions
The psychology of Buying
The Unconscious Purchase Factors That Drive Sales
II. How to Influence Customers Purchase Decisions
Tapping the Unconscious to create sales
Guiding the customer purchase decisions
When and how to use the "Test Drive"
III. Designing Products and the Buying Environment
Predicting Customer Preferences
Setting the purchase stage
Influencing Customer moods
IV. Pricing
The role of pricing in the purchase decision
Pricing strategies that get the sale
Enhancing your price without lowering it
V. Creating Your Influence Strategy
Mapping out your plan
Making Changes
Tuition: Only $69
SPECIAL DISCOUNT FOR BLOG READERS: For the next 24 hours only, use the code "TMSblog25" for a 25% discount off enrollment.
Enroll Here: Customer Influence Webinar
Money Back Guarantee: If the webinar does not meet your expectations, simply request a refund within one week. Your tuition will be immediately refunded.
Questions: Email jay@TheMarketingSpot.com
---
Subscribe to this blog and let future articles come to you: Receive The Marketing Spot by Email or Get The Marketing Spot in a blog reader